Some background on Baldwin ...
Here is a cached copy of Gibson's web pages showing their MSRP for the Chinese built Baldwin L1 6'3" Artist Grand piano: $50,700 whereas the USA built Baldwin used to sell for over $60,000 when it was still being produced in Arkansas (prior to 2008).
I am satisfied with finding a Baldwin in excellent condition, but I am also satisfied with myself that as a consumer I didn't give up and allow myself to settle for something that I didn't really want (I came close to buying a good Kawai). I very much wanted a Baldwin piano and I persevered. I chose a Baldwin because of the their reputation and from my previous experience of playing on Baldwin. I have always preferred Baldwin to most other brands, although some Steinways are tied with Baldwin (my opinion), and of course, the two Rolls Royces of pianos, Bösendorfer and Fazioli ... I found them definitely even more responsive and marvels of precision than Baldwin...but I need to keep within the $50,000 price range, not $120,000 to $200,000. Often a Baldwin is the best price value for the quality that you get unless you get a good deal on a Steinway. If you buy a Baldwin, you might want to consider purchasing a used one that was built in the USA. The brand new Asian-built Baldwin grand pianos are nothing like the American-built Baldwins. I would recommend to buy a used piano from www.livingpianos.com (or similar, reputable place). Here is what Robert ESTRIN says:
"Gibson has bought two huge Chinese companies and is importing those pianos and putting the Baldwin name on them. So don't be confused by those pianos, which bear no similarity to the great Baldwins of the past."
Robert ESTRIN (concert pianist, piano enthusiast-technician, expert piano historian)
Robert's own piano is a Baldwin SD10, 9 foot concert grand.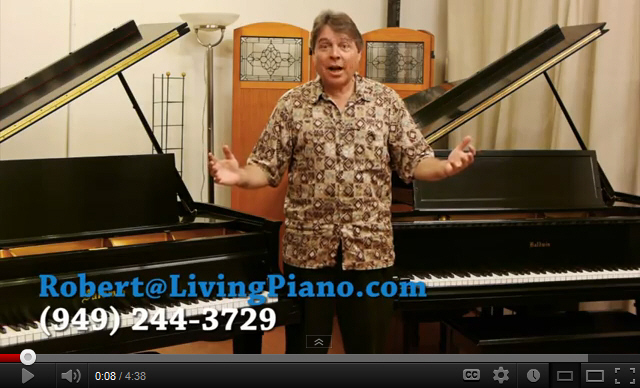 Robert explains very well the difference between the Asian and American Baldwin pianos; see this video: http://www.youtube.com/watch?v=tS4JmhpgOJw&feature=relmfu
When Baldwin was making pianos in Trumann, Arkansas, their reputation was outstanding and they had to be in order to compete with the American made Steinway. The Gibson guitar company, who now owns Baldwin, purchased two factories in China, and they need to establish a new reputation for the Asian made Baldwin pianos. We do know that production costs are far cheaper in Asia, but of some concern is that the pianos are made with inferior materials, notably, softer wood, particle board, and some plastic moving parts (unacceptable in my opinion). American Baldwin really has some impressive facts about the production: the soundboard is quarter-cut Spruce and the rim is a single piece of Maple. Also, many Baldwins have a patented Acu-just Hitch Pins, a very special feature. I am lucky that my Baldwin does have Acu-just Hitch Pins. Robert ESTRIN gives a very good explanation of Baldwin Acu-just Hitch Pins. Gibson took over Baldwin in 2001 ... so I would prefer to have a Baldwin that was built prior to 2001. That notwithstanding, they continued the production line of Baldwin pianos in Trumann, Arkansas until December 2008, which would have been with most of the same materials and expert staff as always. My Baldwin was built in 1994, but purchased in 1998. I purchased it used in Nov 2012, so I consider this Baldwin piano to be about 14 years old.
What are the best piano brands?
According to Robert ESTRIN, these countries have the best quality piano manufacturers: (1 being the highest)
1. United States, Europe (Steinway, Baldwin, Mason & Hamlin, Bösendorfer, Fazioli)
2. Japanese (Yamaha, Kawai)
3. Korean (Samick, Yung Chang)
4. China & Indonesia (Baldwin, others)
You can view his video on this topic here: http://www.youtube.com/watch?v=0HfSsZyxRnU
******************************************
Quick Info Tip: Here is how to know if a Baldwin is American-built or Chinese-built: they now place a small letter "c" over the "i" in the Baldwin name plate to indicate it was built in China. Aside from this, the American built Baldwins have a large stamp on the soundboard:

My Baldwin L has this same "made in USA" stamp, in this same location.
Mine also has the preferred Accu-just Hitch Pins as you can see in the bottom, left corner of this photo.
For current, Chinese-made pianos:
For older and USA-made pianos:
North American Music, Inc.
11 Holt Drive
Stony Point, New York 10980
845-429-0106

Baldwin Piano Company
309 Plus Park Boulevard
Nashville, Tennessee 37217
615-871-4500, 800-876-2976,
800-444-2766 (Baldwin 24/7 consumer hotline)
www.baldwinpiano.com
Here are some other addresses/contact info that I found:
BALDWIN PIANOS

Manufactured by: Baldwin Dongbei (Yingkou) Piano and Musical Instrument Co., Ltd., Yingkou, Liaoning Province, China.
Baldwin (Zhongshan) Piano and Musical Instrument Co., Ltd., Zhongshan, Guangdong Province, China

Distributed by:
North American Music, Inc.
11 Holt Drive
Stony Point, New York 10980
845-429-0106
The Baldwin Piano Company
323 S. Wabash Ave.
Chicago, Illinois
Here are some links for reference to Baldwin pianos.
The Baldwin Piano Company,.. 323 S.Wabash Ave..Chicago, Illinois
http://www.ebay.com/itm/Baldwin-Piano-Chicago-1920-Grand-Piano-Wreath-Grand-Prizes-to-Sheyenne-N-Dak-/360511992910?pt=LH_DefaultDomain_0&hash=item53f030744e
Baldwin Info - USA (formerly) & China (currently)
http://www.pianobuyer.com/fall12/152.html
Baldwin Pricing Info - New Pianos
http://www.pianobuyer.com/fall12/198.html
Below is a reference to NEW prices of Baldwin models (Nov 2012):
My Baldwin is the model L, Satin Ebony, not on this list, but new MSRP is $32,000 to $34,000.
But I did highlight the model L1 that is the closest match to my model L.
All varieties of model L are the same size, 6'3" (L1, L1A, etc.)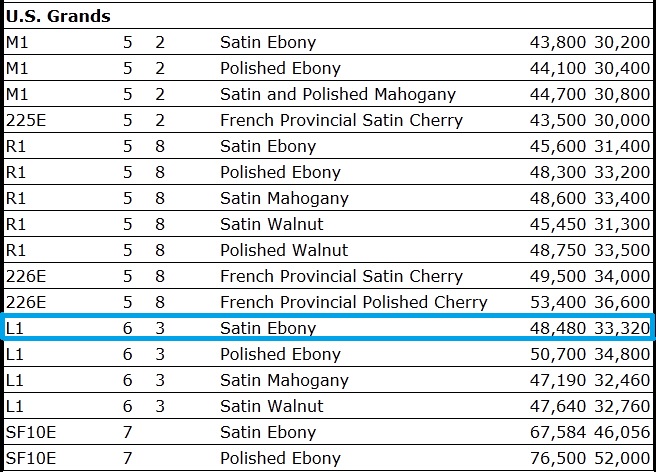 Robert ESTRIN has indicated (below) that the Model L last sold in the USA for $60,000.
The Baldwin decal (name plate) has changed font over the years: (top is most recent)"
This image above is the Baldwin model L (6'3") - the model I have, except mine has the nicer "satin" (low-gloss) finish. High-gloss pianos have a shorter lifespan, and are typically Asian or European pianos. Strict environmental laws in the US prohibited the high-gloss finish. In my opinion, the satin finish has a more elegant look to it, and the high-gloss looks to "candy-like" to me. But I have seen some nice Bösendorfer pianos with high gloss finishes that look (and sound) stunning.
This is the latest font style for USA built Baldwin pianos.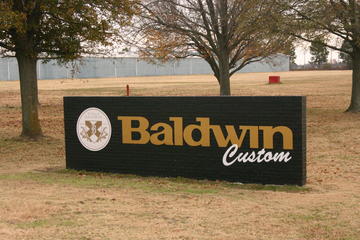 Below are some earlier font styles of Baldwin decals.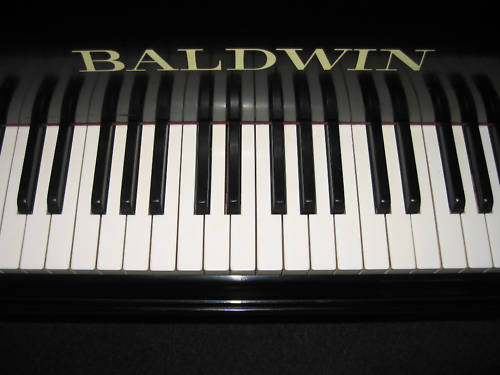 Here is another Baldwin model L 6'3" grand that I found:
http://dollarhideusedpianos.blogspot.ca/2012/10/baldwin-model-l-grand.html
In case the above link becomes expired, I have cached a copy of that web page here: Baldwin L from Dollarhide.
The Legendary Liberace

I found this original 8x10 photo on ebay.ca. You can see some minor blemishes.
I scanned it at 1200 dpi, then had it reproduced on poster-board, then had it plaque mounted.
Total cost for all of that was under $50.00.
I now have this Liberace 17" x 21" poster as the first piece of "decor" for my music studio.
Liberace played exclusively on Baldwin pianos.
I get many of my photos plaque mounted at Alberta Laminations--best quality AND best price.
Contact Jim Dockrill at 403-730-4448 or toll-free at 1-877-331-4448
November 2012